[esi the_ad_placement id="after-title" ttl="0"]
Most people think that they can't own a cow but what if you love them? Instead, you can own a miniature cow and they make some awesome pets. Mini cows are adorable. They are cuddly and they have soft fur. The little buggers can also be very cute and loyal companions to people of all ages. Read on to learn more about this topic.
There are so many cute little cows roaming around. A lot of these cows will only be kept by the most enthusiastic owners. This means that owning a miniature cow will not only be an enjoyable experience but it will also be an enjoyable hobby. When you own a mini cow, you will find that you raise a little adorable pet. They are safer for families with children. In addition, raising mini cows make excellent 4-H projects for your children.
There are many benefits of owning a fluffy mini cow. They are smaller, and they are very easy to handle than full-size cows. In fact, some of them will only need a few things that you will probably already have lying around the house. One of the best things about owning a fluffy mini cow is that they love to eat grass. So you will be able to feed them and they will produce milk for you like standard size cows.
Mini cattle breeds can offer you about 1 to 3 gallons a day. which ought to be enough to provide you a couple of glasses of milk to drink, some butter and cheese per week, and even a bit of milk leftover for a few neighbors. You will also find that they are a lot of fun to take care of.
The other things that you will need to consider when you decide to own a fluffy mini cow are where you will put them. Usually, a mini cow does not need much space, these small-breed bull cows generally stand at 36 to 42 inches at the hip, which implies they're about half the size of a full-size cow. Another important thing to remember is that you will have to check to see what kind of grass is available in your area that your mini cow will be eating. Once you know this, you can decide what type of mini cattle breeds you will get.
There are different types of miniature cow breeds, here are some :
1- Miniature Holstein Cow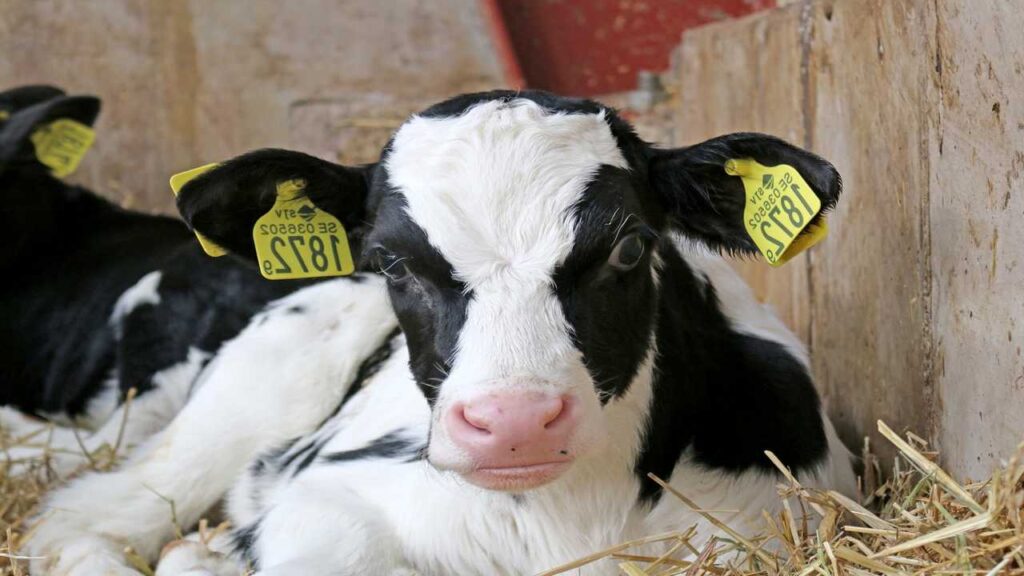 Holsteins are best known for their milk production. The smaller version offers equivalent benefits as its bigger counterparts, except that they don't produce as much milk. Mini Holsteins can offer you two to 3 gallons a day! you'll be able to milk some 3 times daily, each day of the year. The smaller Holstein also offers clear advantages over the standard-sized Holsteins. They only measure in at 42 inches tall, unlike full-sized Holsteins that come in at 58 inches tall at the shoulder.
They do not eat as much, keeping feed costs down. So that they produce less manure, and they're very easy to handle. Since they're small and really friendly, you can teach children all about taking care of a cow together with your miniature Holstein. they will learn to milk the cow and help feed it. And you won't need to worry about their disposition as they're very gentle and easy to handle. They make for an excellent little family milk cow!
2- Dexter Mini Cattle
Dexter cows do not take much to raise, so they're ideal for homesteading. They were bred in Ireland and are smaller naturally because of the shortage of resources within the mountains where they originated. They are very sturdy animals, and you'll be able to keep and milk them outside if you would like to. But they need shelter from extreme weather conditions, like an open cowshed or a shed
Dexter cows give 1 1⁄2 to three gallons of roughly four percent butterfat milk daily, at a rate of up to at least one quart of cream per gallon. They can live for a long time, with a mean lifespan of about 17 to 18 years. And they also can make great pets, although you'll get to be concerned with the horns, especially around children.
3- Miniature Zebu the mini India cow!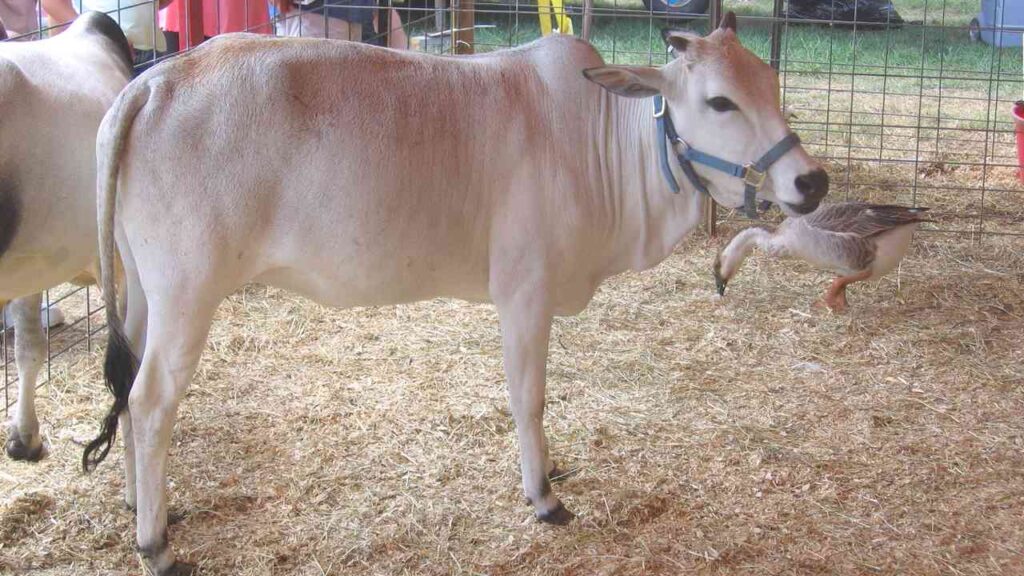 Miniature zebus are thought to be the oldest cattle breed within the world some document records place them in southern India and Sri Lanka by 3,000 BC. They are noticeable by the hump behind their head. The first miniature Zebu was imported into the United States in the 1920s. These small cattle are friendly and make good companions on smaller farms. You can easily halter-train small Zebus, and you can have your children walk them on a leash. The breed is so docile and small that it is considered safe for kids and for the elderly.
Because of their appealing look and friendly disposition, Zebu cows are mostly bred for shows, junior rodeo events, and zoological gardens. you can raise them as pets, and you can even use them for milk. Their milk is additionally very rich in butterfat. A typical zebu cow can produce a gallon of milk every day. With proper care, they can live for as long as 20 to 25 years.
They have sleek coats that are short and dense. Their colors range from black, spotted, or red, to gray or nearly pure white. They do alright in warm weather, which is why many of the Zebus within the United States are in Florida. Their origins have made them immune to most tropical diseases. the value of a registered miniature bull calf in Florida may range from $500 to $2,000. A heifer calf can cost from $1,500 to 3,000. They can be very expensive if they come from top-quality bloodlines or if they're very small. Also, the brahman cattle are a breed branching from the Zebu.
4- Mini Scottish Highland Cow
People admire the Highland breed for their distinctive looks, and when that look is in a miniature version the cuteness score is off the charts. That makes them one of the cutest domestic animals to own, especially when combined with their characteristic long hair on top of their heads. They are great little adorable pets. It's why calves go for about $6,500 even, registered or not.
But they're not purely only for decoration, and there are advantages to raising them on your small farm. They exhibit all the main traits of their bigger counterparts. The difference is that they require less food and acreage, making them better suited for smaller farms. Longevity, self, sufficiency, and hardiness are traits to portray them. You can raise them in any state in America and they'll thrive, although for best results you ought to get your miniature Highland from a farm with a climate that's almost like your own.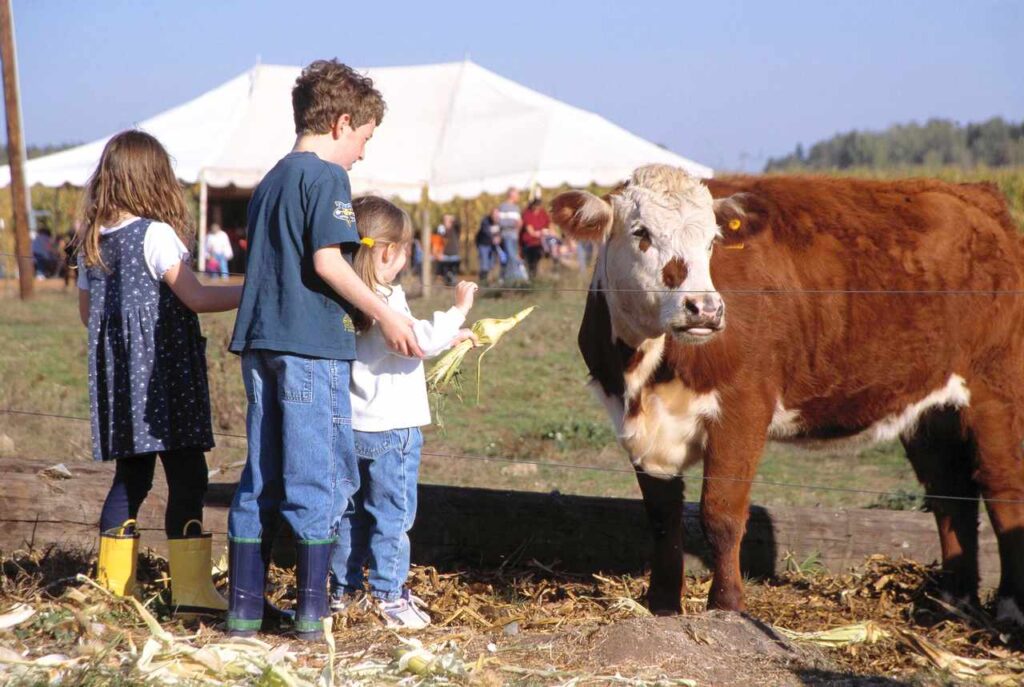 They have the famous double hair coat with the long, coarse outer layer and the soft wooly inner layer. This coat implies that you won't have any need for special and expensive shelters and barns. This coat also implies that they don't need a heavy layer of fat to insulate themselves against the cold. Miniature Highland cows are well adapted to cold weather, they're a hardy breed. The hair sheds out in the spring, and within the warmer climate, they only don't produce as much hair.
So if you're into hobby farming or if you wish a pet cow, the miniature Scottish Highland may be a great choice. They're good-looking and unique, they are very docile, calm. Despite their long horns, they're very easy to work with, and that they can thrive beautifully in even harsh conditions.
5- Miniature Belted Galloways
The Belties, as the Miniature Belted Galloways are often called, are a really hardy breed. They originated from the southwestern part of Scotland. They have a double coat, with a coarse outer coat designed to repel and shed water. Even in very cold weather, the rain hardly penetrates their coat. Belted Galloways tend to have a solid color but with a white belt around their midriff. These Belties are a well-liked breed for little farms. They're naturally hornless, which offers several key advantages.
Due to the efficient protection offered by their double coat, their carcasses don't have that additional layer of fat within the back that's quite common to other breeds. Their excellent hair coat also translates to lower feed costs during the winter With the nice double hair coat, they need less feed than usual to maintain their body condition. These Belties can thrive all year long, and that they only need minimal shelter from the summer heat to the winter cold.
Miniature Belted Galloways are easy to raise. They are very docile which implies that they're easy to handle and care for. They should have access to clean water, and there should be some pasture grass and good-quality hay. That goes for a few available mineral or salt blocks too. For extreme weather, it may be nice if they have some shelter or shade to keep themselves more comfortable. They're also known for their longevity and hardiness, as they're immune to the disease. They even have high fertility rates, and calving is easy for them.
They will also need regular parasite control and vaccinations, for potential problems like leptospirosis. Over the last decade or so, the numbers of Miniature Belted Galloways have risen significantly, and so has the demand for them for small farms. They do really well on small family farms. Like numerous miniature cattle breeds, they're completely adorable too.
6- Jersey Mini Island Cows
Jersey is a British island found within the English Channel. Because it's an island, the cattle there have been able to develop in relative isolation from other cattle breeds. These miniature cattle are famous for their high-quality milk production, together with its generally friendly personality and lower maintenance cost due to their miniature status. Today, mini Jersey is a rare breed. they can be very adorable, and that's undeniable.
The color of their coat ranges from fawn to dark fawn, with some sporting splashes of white. due to their small stature, they don't require as much acreage and barn space. They also require less feed, as they only eat half as much as their bigger counterparts. Their milk is extremely delicious and quite nutritious too. They contain high butterfat and protein amounts. they will produce about 2 to 4 gallons of milk each day. While they can be playful as calves, they will even be very gentle and sweet even when compared to their female calves.
The calves also don't like the cold very much, so you ought to keep them warm with calf coats or even with heat lamps. Keeping them warm within the winter months is crucial if you would like to minimize the risk of stress-related diseases. Just remember, with mini Jerseys you get the best milk for your kids and family, and also a gentle pet besides.
7- Miniature Herefords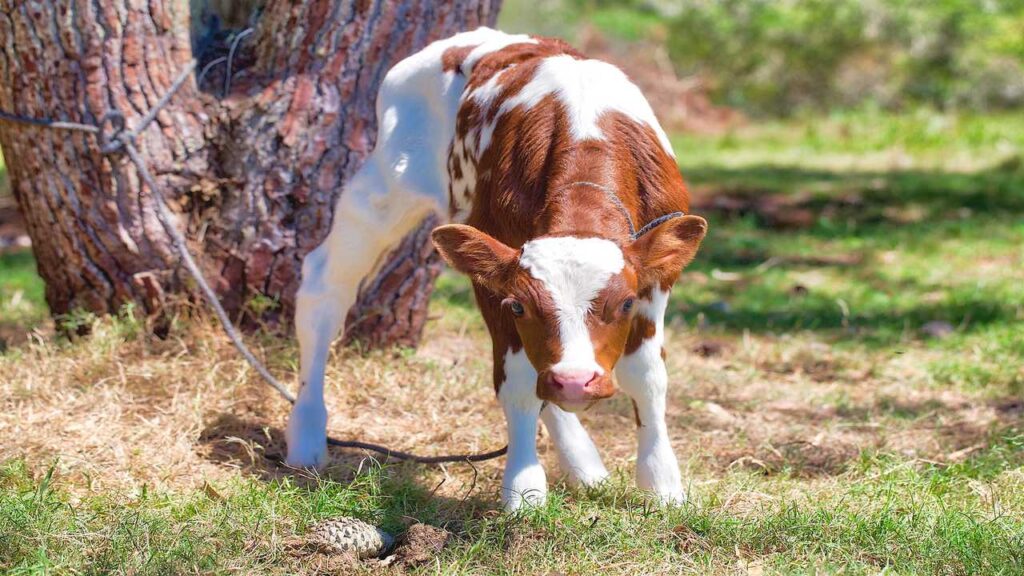 Miniature Herefords are very docile and make good pets. The standard Hereford cattle breed began in Herefordshire, England, about 250 years ago. Additionally, the breeding program for the miniature Hereford started within the late 1960s, but it was only in 1989 when the breeding stock became available for purchase. you can buy them as a pet for your kids. They're generally calm and have sweet temperaments, especially when they're already halter-trained. Also, they are very easy to care for, and that they won't cost you as much for upkeep. They adapt well to all environments, and they're very hardy, so you cut back on veterinary bills.
They don't need much food treats, they require less pasture space, they're easier on your pasture and fence, and they produce less manure to haul away. The breed is very fertile and may breed back rather quickly. The heifers can breed at about 2 to three years. The bulls can even start at an earlier age, as they will breed when they're a year and a half years old. After giving birth the mother is very nurturing, and she also can provide a lot of milk for her calf. you ought to find a reputable breeder if you're considering buying a miniature Hereford.
8- Buy Miniature Cow
So when you want to own a fluffy mini cow, just go online and find the right breeder. They breed them in the US and also in places like the UK and Canada. You can be sure that they are reputable and very good at what they do. A lot depends on where you purchase your cows, so you really ought to get them from reputable farms and ranches.
Interestingly, miniature cows are up for grabs in several ranches in your area. If you're trying to search for one near your local area, you can simply just search on the internet or type in google "cow ranch near me" and it will automatically show you different ranches available in near you. For more info on where to find these miniature bovines please visit the reference of the International Miniature Cattle registry.
Do you have mini cows? Show us in the comments below!
First photo of the article by thomas vanhaecht from Stocksnap